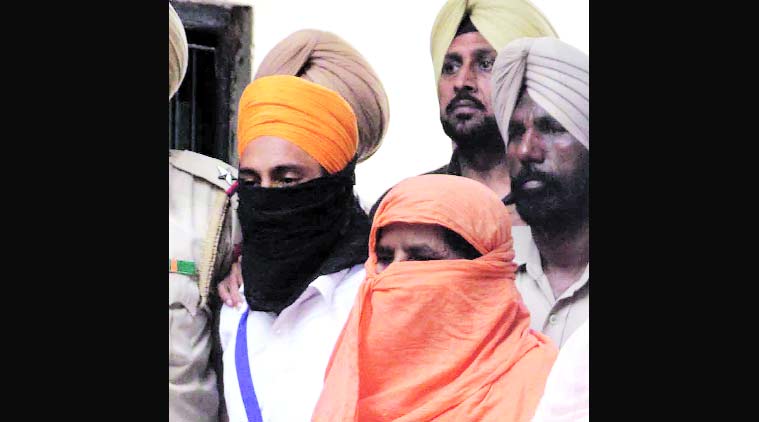 THE first arrests made in the series of sacrilege cases reported from across the state recently, the Ludhiana police on Monday said that Ghawaddi sacrilege was executed by a woman resident of the same village and that gurdwara granthi Sikander Singh helped her in hiding the incident.
The police claimed that the woman, Balwinder Kaur, 48, had confessed to her crime, saying she tore 20 pages of the Guru Granth Sahib at Guru Ravidas Gurdwara at Ghawaddi village around 4 am on Saturday. Later, she herself raised the alarm to avoid suspicion.
While the woman has been booked under sections 295-A and 34 of the IPC for hurting religious sentiments, the granthi has been booked under Section 201 of the IPC for disappearance of evidence.
During the press briefing, Police Commissioner P S Umranangal and Deputy Police Commissioner Narinder Bhargav did not divulge why she did it. "It is an extremely sensitive issue and certain things are under investigation as of now. There is a third person behind the whole scene but it is a matter of investigation," said Umranangal.
Police sources told The Indian Express that Kaur, a baptised (Amritdhari) Sikh and a widow, confessed that she was promised Rs 1 lakh for carrying out the sacrilegious task but was not paid a penny. She was closely associated with the Shiromani Akali Dal and her son Ranjit Singh became nambardaar of the village since SAD came to power in 2012. She first claimed that a local Congress leader told her to do the job. Later, she backtracked. "She is denying as of now if some Sirsa Dera follower was behind it," said a source. "She has been closely associated with the Akali Dal for years and lived mostly inside gurdwara as a sewadaar. Her younger son was rarely seen in the village since his father died."
with thanks : Indian Express : LINK : for detailed news.