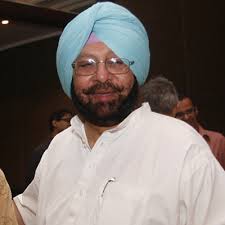 Punjab Congress President Capt Amarinder Singh on Sunday snubbed Deputy Chief Minister Sukhbir Singh Badal and rejected his demand for action against Congress leaders attending 'Sarbat Khalsa' (congregation of sikhs) at Amritsar on November 10.
"You better mind your own business than meddle in our party affairs". "It is like devil quoting scriptures", he remarked. The PCC President asked Sukhbir and his father (Parkash Singh Badal) that before raising an accusing finger on the Congress leaders, who attended the 'Sarbat Khalsa' purely as true Sikhs, they should better take action against SAD sitting MLA Virsa Singh Valtoha who boasts himself as a "terrorist".
with thanks : DNA : LINK : for detailed news report.