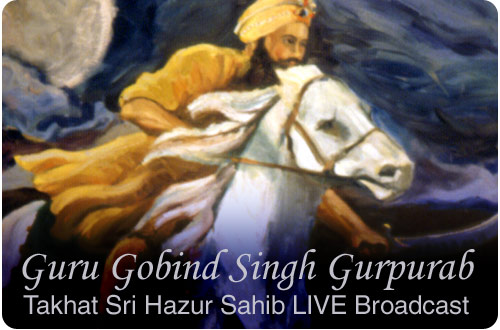 In memory and celebration of the Prakash Purab (Birthday) of Guru Gobind Singh Ji which occurs this year on Saturday, Dec 31st, we are excited to announce the launch of daily live audio broadcast from Takht Sachkhand Sri Hazur Sahib.
This will enable thousands of Sikhs all over the world to join in and listen to Kirtan that is happening live from Takhat Siri Hazur Sahib in Nanded, Maharashtra, India.
Although this broadcast channel just became available on SikhNet Radio and on the Gurbani Media Center mobile app, it will continue indefinitely after the coming Gurpurb, so that you will always be able to listen to kirtan from Takht Sachkand Siri Hazur Sahib. It is now a permanent SikhNet Radio channel - Channel 7.
This new live audio broadcast has been made possible by the partnership of SikhNet and the Hazur Sahib Gurdwara management. Special thanks to Dr. P. S. Pasricha (Chairman) as well as Jasbir Singh Dham (Adviser to Chairman) who helped make this new service possible on this auspicious occasion.
Starting early morning on December 31st (India time - Standard Time +05:30 UTC) you can listen to the special celebrations going on at Takhat Siri Hazoor Sahib in celebration of the birth of Siri Guru Gobind Singh ji.
You can listen to the Live Broadcast directly on the
SikhNet Radio page
(Channel 7) as well as on your mobile device using the SikhNet Radio / Gurbani Media Center mobile apps. In the following week the live audio will also be available directly on the
Hazur Sahib website
.
with thanks : SikhNet : link in headline above.