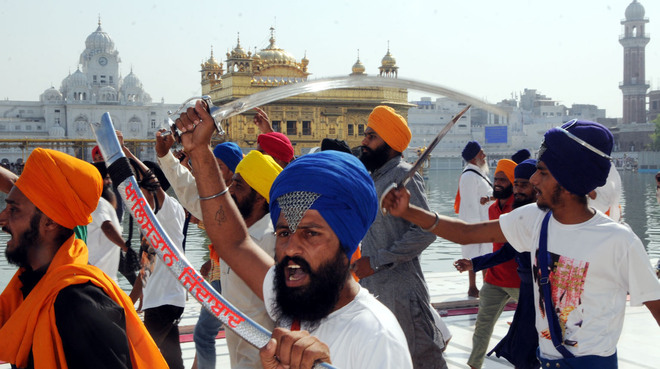 Panic gripped devotees at the Golden Temple complex following a clash between the SGPC task force and Sikh youths that left five persons injured. The violence erupted hours after the event to mark the Operation Bluestar anniversary passed off peacefully. It is the second successive year that the Golden Temple complex witnessed violence on the Operation Bluestar anniversary.
Some youths were seen moving around in the 'parikarma', brandishing 'kirpans', causing fear among the devotees. Sources said the SGPC task force pleaded with them to leave. However, they entered into an argument that finally led to a tiff between the two sides in the afternoon.
The task force, which outnumbered the youths, handed them to the police. The free-for-all saw the devotees running for cover, many of whom hid in rooms adjacent to the 'parikarma'.
with thanks ; Tribune : LINK : for detailed news.