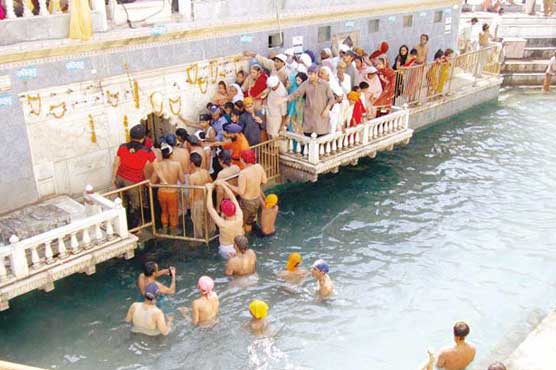 HASAN ABDAL (Dunya News) – Three days celebration of Sikh's spring festival 'Besakhi' ended on Tuesday in Gurdawara Panja Sahab, Hasan Abdal. Federal Minister of Religious Affairs Sardar Muhammad Yousaf and Chairman Evacuee Trust Sadeeq Alfarooq were the chief guests of the last day of 'Besakhi'.
Sikh pilgrims from all over the world including women and children, participated in the annual festival. Pilgrims performed their religious rituals at Gurdawara Panja Sahab for 4 days.
Assembly members from Sikh minority also addressed the pilgrims on the last day. Sikh delegates said that they are thankful to Pakistan government for taking care of their needs and providing them security despite all the fears of terrorism.
with thanks : dunyanews : LINK