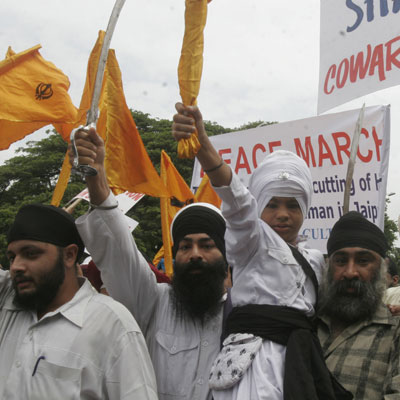 A Sikh organisation in Pakistan has threatened to launch countrywide protests if those who allegedly desecrated the Sikh holy book are not arrested by Saturday.
Speaking at a press conference at Karachi Press Club yesterday, Pakistan Sikh Council (PSC) patron Ramesh Singh demanded that a judicial commission be constituted to investigate how and why such incidents had all of a sudden started happening across Sindh province, reported the Dawn.
He said that all the culprits should be arrested, tried and awarded stern punishment so that it could act as deterrence to others. He also demanded security for the religious places of minorities.
Recounting instances in which copies of the Sikh holy book, the Guru Granth Sahib were burnt, Singh alleged that various incidents had been reported from across the province including in Sukkur, Dadu and Shikarpur districts.
Earlier this month, similar incidents were reported in Karachi and Shikarpur.
with thanks : DNA : LINK : for detailed news.