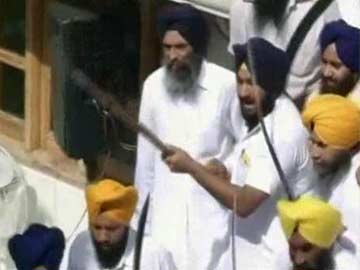 Amritsar:
Over 12 people were injured when two groups clashed inside the premises of the Golden Temple in Amritsar this morning.
The clashes followed an altercation that reportedly happened between the two groups during a ceremony organised to mark the anniversary of Operation Bluestar.
Sources say Simranjit Singh Mann of the Shiromani Akali Dal (Amritsar) reportedly wanted to address the gathering but his demand was turned down by the Akal Takth Jathedar. This reportedly left his supporters angry who then clashed with the Shiromani Gurdwara Parbandhak Committee or SGPC task force members.
Members of the two groups, seen brandishing swords and lathis, clashed for close to half an hour.
The situation is calm now. Heavy security deployment is in place.
Terming the clashes "unfortunate," SAD spokesperson Prem Singh Chandu Majra said the SGPC will take action against the culprits.
With thanks : NDTV :
LINK