Khushwant Singh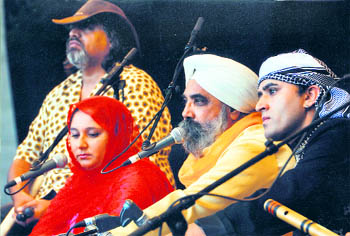 I
was aware of the existence of Sikh settlements in Woolgoolga in North Australia. They were farmers growing avocados and bananas and were prosperous enough to have aircraft of their own to spray pesticides. They were split into two factions and had two gurdwaras. I spent one evening with them and was charmed to note that after the evening prayers, their ladies served chilled beer to their men folk.


(Left to right) Aboriginal musician Uncle George, Jamel Kaur, Dya Singh and Afghan Muslim tabla player Rameen Nawa at a recital




In the last few decades, Sikh presence has spread to other parts of Australia, most notably to Melbourne. The city's best-known sardar is Dya Singh, a 60-year-old ragi born in Malaysia, where his father was a granthi-cum-ragi of a gurdwara. Dya Singh started singing with his father when he was only three, and continued doing so for the next 15 years.
The Article :
Sardars of Australia : via link from :
Thanks to Sd. Gurmukh Singh ji from UK.